Rigid Core Flooring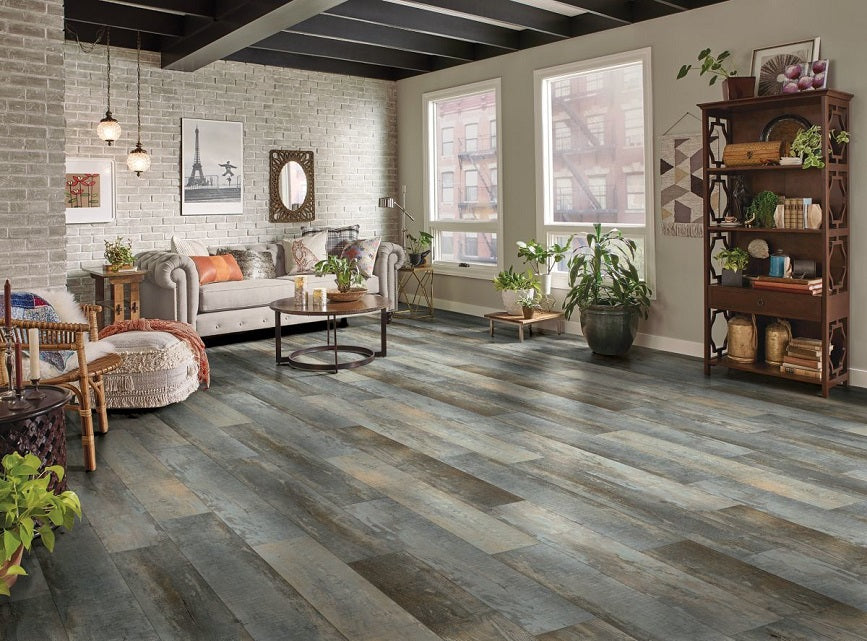 Rigid Core Flooring
4.95
/ 5 stars,
87
reviews
Waterproof Flooring
Armstrong Flooring Rigid Core flooring is the next evolution in waterproof flooring. Installing floors with Rigid Core technology has never been faster with less preparation and quicker interlocking planks. The flooring in this category is typically made of a solid polymer core that appropriately lends to the category name, Rigid Core.
No acclimation required, Fast, Ready to Install Same-Day!
The demands to get a commercial space up and running quickly are ever-increasing. Whether new construction or renovation, Rigid Core flooring offers multiple benefits. For most installations, planks and tiles do not need to be acclimated as long as they're being installed into properly conditioned spaces.
Armstrong Rigid Core Reviews
Six rigid core floors exist from Armstrong:
Empower

Luxe Plank with Rigid Core

PRYZM

Rigid Core Elements

Rigid Core Essentials

Rigid Core Vantage
Empower - Rigid Core
As one of Armstrong's most popular in their Rigid Core line, Empower has three key attributes that prove its effectiveness. First, it has strong waterproof qualities, made for any room that has potential for moisture. Kitchens, bathrooms, and laundry rooms are good examples of rooms where the floor is more effective.
Armstrong also makes their Empower floors extra durable for just about any room exposed to elements. A reinforced mineral core layer is what makes this possible. Now you can place this floor in a room exposed to heat, cold, or extreme sunlight without it fading. It can handle sun exposure year-round.
Diamond 10 Technology helps Empower maintain stain-resistance as well. No matter what stain ends up on your floor, it's easy to clean. Thank the elements of literal diamonds for making this scientifically possible.
Luxe Plank with Rigid Core
With Luxe Plank, Armstrong offers true elegance giving you the look of hardwood, and stone. It even brings a waterproof element to prevent warping and buckling. This water protection helps retain the plank's integrity, no matter how much moisture.
The durability aspect of Luxe Plank is equally notable. Thanks to a commercial-grade surface, any stain is easily cleanable. While recurring maintenance needs doing, this type of floor won't stain as happens if using real wood.
Installation is a strong suit with this particular brand. Not all floors have angle-locking mechanisms that allow you to place planks in one session. Armstrong made these for a DIY installation in mind, including hiding flaws in your subfloor.
PRYZM
A centerpiece brand for Armstrong is PRYZM based on the limitless style offered to any home. The realistic visuals this provides in the way of hardwood are stunning. It won Armstrong a 2017 Platinum Award for Design Excellence thanks to their commitment to making their vinyl planks look natural.
Like other Armstrong brands, durability is a strong point here. Your home can take on heavy foot traffic and not have to worry about it wearing out within a year. You can place heavy furniture items on a PRYZM floor as well without it denting or getting scratched.
Once again, PRYZM is waterproof, making it a go-to floor in any room vulnerable to moisture. Thanks to an easy locking mechanism, you can remove these planks if they get wet, let them dry, then put them back in place.
Rigid Core Elements
This brand lives up to its name. It withstands all elements, including spills and loud sounds.
Rigid Core Elements also mimics the look of many natural hardwoods with true clarity. The durable hybrid construction of three layers keeps the floor as strong as all others to resist surface wear and moisture.
A 12-mil wear layer is a top-level feature of Elements. It helps withstand dents and any other damage done to the surface. Many users consider this like a commercial-grade floor.
As with all these Armstrong brands, Elements is waterproof. The floor's hybrid structure offers four distinct layers to make this happen.
Rigid Core Essentials
Armstrong's Essentials is much like the Elements above, including the same features.
The stylish options available here are a little more extensive, including a wide palette of colors. You can get the look of hardwood or stone using unique colors from brown to grey.
These planks are also 6 inches in width, offering a good size to cover any floor length.
Rigid Core Vantage
Focus is more on durability with Vantage, even though it maintains the same features as other Rigid Core brands. Thanks to another commercial-grade surface, this floor withstands abusive foot traffic similar to what retail businesses experience.
The beauty of these wider planks is also striking. Painted bevels on each plank make these stand out in any room of your home. Embossed in-register textures add to the aesthetic qualities.
With another easy installation method available here, you can start enjoying your floor immediately without any long waits.
Pros & Cons


Pro: Rigid Core is Quiet and Comfortable
While you know Armstrong's Rigid Core is durable and waterproof, a major pro is how quiet it is and its comfort level.
You can walk on it with any type of footwear and it won't create an annoying echo. This is important when placing the floor in parts of your home that might get more foot traffic and don't have the best acoustics.
Also, crowd noise is more easily controlled if you entertain often in your home. No one wants to hear the sound of multiple people talking at once without some decent sound control. The cork underlayment in Armstrong floors tempers these noises so it's not annoying.
Comfort level comes from the cork layer. You can walk on Rigid Core floors without footwear and never make your feet sore. It gives the feel of standing and walking on a carpet without having the same required maintenance.
Pro: Trendy Styles for Your Home
The textures and colors available on Rigid Core floors offer many stylish and trendy looks to stay modern. Going for the look of real hardwood can sometimes mean looking slightly old-fashioned if using real wood.
Armstrong's use of rustic, reclaimed, and brushed wood gives you a chance to stay up on the latest decorating trends. Add in multiple textures and colors besides to complete the look you want. Always feel free to use these floors in virtually any room since it works for every living environment and scenario.
Pro: Easy to Maintain
Keeping your Rigid Core floor fully clean and maintained is not a big challenge. Armstrong made it simple to clean these so they won't deteriorate after a year.
The use of real wood pretty much guarantees a floor replacement after a year if you don't care for it. An Armstrong Rigid Core floor is made of materials that last for many years as long as you clean every week.
Simple vacuuming, sweeping, and mopping keep it looking pristine. Armstrong also sells cleaning products that help during casual cleaning, or for tackling tougher stains.
Con: You Have to Replace the Floor Eventually
There isn't a floor available in the world that's completely impervious to damage. Rigid Core floors are stronger than the average, but planks can still be potentially dented or punctured from something overly heavy.
If this does happen, you can easily replace the planks since most Armstrong brands use the click-lock installation feature. Remove any damaged plank, then easily put a new one in its place. This saves from having to replace your entire floor.
Pre-Purchase Q&A
Is There a Pad Attached to All Rigid Core Floors?
Most of Armstrong's Rigid Core floors have an attached pad to help with sound absorption. You'll find this important if you have a lot of people in your home often for entertaining or for meetings.
Cork underlayment is already attached, making the use of any other pad unnecessary. These floors even acclimate easier to imperfect subfloors thanks to the pad already being there.
The sound control aspect is why cork is so often used as an underlay in the best floors. Not only does this help with crowd noise, but also controls noises from pets. Continual dog barking and meowing from cats can become ear-piercing without proper redirection of sound. No matter what room you place your Rigid Core floor in, intense sounds (including from music) won't break your eardrums.
What Does "Rigid Core" Mean in Vinyl Flooring?
The reason Armstrong calls it Rigid Core is because the materials are made of a solid polymer core. It's why these floors are so durable thanks to the scientific properties of a polymer.
You've probably used polymers in your everyday life since it's used in many products to keep them durable. Armstrong uses a polymer core in one layer of their floors to take on foot traffic and heavy objects.
Now you know why Armstrong continues to lead as one of the most durable floors in the world. Of course, since these floors have various layers, its solid polymer core is only one part of guarding against many human and natural elements.
What's the Difference Between Residential and Commercial Rigid Core?
Armstrong's Rigid Core floors are typically focused on residential use, though versions for commercial businesses are available. The difference comes in the warranty.
A warranty for a residential version of Rigid Core floors is up to 30 years. Conversely, a commercial warranty is limited to 15 years.
This makes sense considering a business is going to get considerably more floor traffic and other wear in a shorter amount of time. A residential Rigid Core floor is going to last longer due to fewer people in a home, even if that's not always the case.
Some homes are as busy as a retail store. The difference between a commercial-grade floor and a residential one is sometimes not far apart, including the durability aspect. It all depends on your home environment, including if you have a home business.
The brands of residential Rigid Core getting the 30-year warranty are Essentials, Elements, and Vantage. Commercial versions of Rigid Core with a 15-year warranty include Vantage and Empower.
How Do You Install Rigid Core Flooring?
No doubt you worry about floor installation and how long it's going to take. Armstrong's Rigid Core floors are made with a DIY frame of mind when it comes to an install.
In most Rigid Core brands, you simply use a click-locking method to put all the planks together. You're essentially creating a "floating floor" on top of your subfloor.
Most people can install these floors on their own using this method. However, never feel too proud to hire a professional installer if necessary. Sometimes adhesives might be necessary on the planks if you have a room exposed to excessive sunlight.
Should you need adhesives, consider hiring a professional to make sure it's done right. Otherwise, any excessive glue you use could create stains you'll have to clean later.
Thanks to the cork underlayment, you won't have to prepare your subfloor beforehand if it's less than even. Transition strips are also unnecessary thanks to the size of Armstrong's planks.
How Do You Uninstall Rigid Core Floors?
The time might come when you want to uninstall your Rigid Core floor. Reasons for this might vary, though it may be because the floor got wet in a flood. Since it's waterproof, you can just remove the planks individually using the click-lock method used to install it.
Once the planks are dry, you can put them back in place how you had them. However, maybe one plank got damaged and you need to remove just that one. You can do so just as easily. Replacement pieces are easy to buy through Armstrong dealers. Just click the new plank into place as you did before.
Eventually, the floor will need a full replacement. It might be a couple of decades or more before this happens. Perhaps your kids or grandkids will end up being the ones to do this if they inherit your house. They'll find it easy to remove the old planks and install an all-new Rigid Core floor. By then, Armstrong's flooring features may be far more enhanced in their durability qualities.
All Armstrong Rigid Core flooring has five distinct layers, giving the utmost protection. You might think this makes the floor extra heavy, yet it isn't.
The First Layer is a urethane coating that has a 20-mil wear layer. This is where the real durability of the floor's surface comes from. Having a 20-mil wear layer is the best available for high foot traffic areas in residential settings.
You can go up to 28-mil for commercial versions of Rigid Core, albeit 20-mil a standard for luxury vinyl planks designed for homes.
The Second Layer is the printed material that gives the illusion of real hardwood. Rigid Core is known for being very convincing in the printing technology they use. Most people can't tell the difference between the printed layer from the surface of natural materials.
Only the feel of the floor is where you'll notice the real differences.
The Third Layer is where Rigid Core gets its name. The middle layer is a solid polymer core, the source of the floor's durability. The polymer is dense and solid, providing the real heart of Armstrong's floors.
With numerous products worldwide using polymer materials, Armstrong understood this is what makes floors last long-term.
The Fourth Layer is where the click-lock installation takes place. It's also the layer where you can apply adhesives if you choose to.
Armstrong considers this the fourth layer so any adhesives used don't bleed through.
The Fifth Layer is the acoustic backing, or what you call the cork underlayment. An attached pad prevents you from having to buy an underlay on your own.
Also, this is where the comfort level of the floor and sound control all come from. If five layers sound like a lot, it offers proof of how much scientific detail goes into Armstrong flooring.
Why Buy Armstrong Rigid Core?
Holds up under the most intense foot traffic.

Features award-winning designs that mimic real natural materials.

Protects from denting, stains, and scratches.

Waterproof for virtually any room in your home.

Comfortable and quiet. It's perfect for noisy rooms or homes with loud pets.
What is Rigid Core Flooring?
You can best describe Armstrong's Rigid Core flooring as a stronger form of regular luxury vinyl planks or tile. The difference with Rigid Core is all the layers seen in vinyl planks are more robust.
Armstrong made these floors for the truly busy home that has more than one person walking around. Those of you who entertain at home often, or have big families, can make Rigid Core flooring a near-lifetime investment.
It takes on moisture with ease, plus can handle scratches and stains. Heavy objects also won't dent the floor, making it perfect for those with heavy furniture items or potentially damaging footwear.
PRYZM is considered one of the most popular of the six Rigid Core brands Armstrong offers. The reason is its solid polymer core and commercial-grade quality. This is made for the busiest of homes, even though commercial versions of Rigid Core continue to be available.
With hardwood styles, different textures, effects, plus various stone styles, Rigid Core has something for everyone. And it can go in virtually any room of your home. You can even use it in rooms that you might not think vinyl planks would work in like bedrooms or living rooms.
Most of all, it's made for floors getting the heaviest foot traffic from kitchens to bathrooms.
Why you need this type of floor comes in the mil layer of Rigid Core, something worth looking at more in detail.
Why the Mil Layer Matters
Sometimes you'll see "mil layer" written as "mil rating" or "mil thickness." No matter how it's written, you still want to know what mil wear layer means.
It's the layer of the floor that helps provide Rigid Core's durability level. The thicker the mil layer, the more durable the floor holds up over time. In mathematical terms, a 20-mil wear layer is 0.5 mm, offering a very strong material that can hold up for a couple of decades.
A 20-mil layer is fairly standard in the Rigid Core line. In comparison, normal vinyl planks for residential use usually come in 12-mil (0.3 mm), or what's considered "light use." Many commercial businesses use this as well if foot traffic is minimal.
Some commercial use Rigid Core floors go as high as 28-mil (0.7 mm), providing durability that lasts longer. Then again, it all depends on how much traffic the floor gets. In some businesses, this might go on for 15 years, hence why Armstrong's commercial warranties are for this length of time.
The highest mil layer on the market is 40-mil, though not commonly used in Armstrong's Rigid Core brands. At scale level, 6 to 12 mil layers are best for residential locations. Anything starting with 20-mil on up is for commercial use. However, the mil layer you use may differ based on the business type. A good example would be comparing the difference between a hotel and a bar or an assisted living center and a dentist's office.
A hotel may need a stronger mil wear layer to withstand intense foot traffic coming in day and night. Compared to a bar, the foot traffic ratio is perhaps quite different. Then again, bars can also get busy since they often operate into the a.m. hours.
Assisted living centers sometimes get as much floor traffic as a hotel. Medical personnel constantly come and go. Patients also walk the hallways at all times, sometimes with walkers and wheelchairs. All of that puts a big strain on floors compared to a dentist's office.
For a dentist, a 20-mil layer is maybe all they'll need since not many people walk their floors as frequently. Considering patients are lying down most of the time, it gives you an example of how carefully some businesses need to consider the wear layer. Calculating foot traffic may sound strange. Yet, that's where your home or business benefits from buying the right Armstrong Rigid Core product.
Rigid Core vs. WPC or SPC
You might be thinking about what WPC is, which stands for "Wood Plastic Composite." WPC is just a different term for Rigid Core flooring, with a few minor differences. Also, you need to know the comparison to another type of flooring in the same family: SPC.
Otherwise known as Stone Plastic Composite, SPC flooring does differ a little from WPC. One thing Rigid Core floors have in common with both is that it's durable, waterproof, and convincingly mimics the look of wood and stone.
Where WPC and SPC differ is in the latter using more limestone. This mimics the realistic look of stone. WPC uses materials like wood flour to give the properties of wood without it being like the real thing. Printing technology allows these floors to look natural to the naked eye, making them within the same wheelhouse as Rigid Core.
It's also important to place into context the claims of being waterproof. A better term to use is water-resistant. Armstrong does note their floors are waterproof, though all of these floors can come through floods without damage. Rigid Core floors make it easy to remove the planks to let them dry.
SPC floors are usually considered slightly more durable because of a higher density in the materials. Nevertheless, they're all highly durable and made to withstand long-term walking and standing. WPC is usually known for being more comfortable to walk on thanks to acoustic backings. In Armstrong's Rigid Core, cork underlayment is used for ultimate comfort and sound control.
The specific look you want in your home is what it comes to. A look of wood is typically the most popular choice in Rigid Core/WPC floors. Still, the look of stone is very popular and offers most of the best Armstrong features.
One thing for sure is WPC and SPC floors are starting to replace real hardwood and stone in flooring. At a reduced cost, and with most people not being able to tell the difference, they'll continue being popular choices.


Rigid Core Floor Installation
Learning how to install Rigid Core flooring is not a major challenge thanks to the construction of these floors. It's made for anyone with DIY capability. This isn't to say you shouldn't hire a professional installer if you've never installed a floor before. Thanks to Armstrong's locking mechanism, putting the planks in place is not complicated. Your biggest install job is usually in preparation before the floor goes in place.
To start, you need to look at the size of your floor and whether it'll be a small room or multiple rooms. For a bigger job, you might want to consider hiring a professional. Regardless, if you've installed waterproof flooring in the past, you can likely manage on your own.
Preparation of each room needs a little thought before you begin. Move all the furniture out of the room, including removing the old floor you're replacing. Remove the wall base and trim as well. These first steps could take hours, but it's best to set aside one day just for this. Also, include a check of your subfloor to make sure it's flat and dry.
The great thing about Rigid Core floors is you can still install them over subfloors that are less than perfect. No transition